By Katerina Spei, PsyD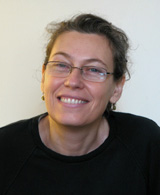 We are a kaleidoscope of experiences. They are so diverse that they cannot fit easily into a single picture. Because we are pulled into so many directions, in order to maintain a sense of internal coherence, especially when intensity is significant, we tunnel our visual field. We focus on a segment of our internal world, sometimes on the dullest part and sometimes on the most exciting one. Its value, whether negative or positive, becomes absolute, while at the same time inhibits us from discerning anything else. In this process, we miss and disown important parts of ourselves that do not fit in, while other times we get haunted by one memory, one emotion, one thought, one behavior that represents the leftovers of ourselves. We find security in attaching to a familiar self image (a solid, hard, fossilized object), an identity that we invest with survival value. Yet, all the left over self parts pressure for representation against our conscious will, for instance through symptoms.
Symptoms are condensed structures that allow the representation of our diverse experience beyond logical restraints; especially what feels impossible to include into an invested identity. Psychological and emotional problems often originate from our limited capacity to maintain an inclusive, adaptive, and flexible concept of ourselves as well as from desperate efforts to compensate for it by adopting a rigid identity. Relief from distressing symptoms requires the restoration of our desire to meet and acknowledge ourselves; the activation of our creativity through which we can put together pieces that do not easily fit with each other; the redefinition of confusion as an exciting surprise and hope for self awareness; and the understanding of our emotional pain as a signal, a call, a request to pay attention to our neglected self parts.
Psychotherapy needs to foster a therapeutic attitude. First, it needs to open up questions related to our relationship with our own selves. What prevents us from opening up our eyes to see the magnificent diversity that we carry inside us and allow ourselves to be awed with the collection of internal colors and shapes? How can we see the whole picture even when we are not ready to make meaning out of it or put it in a coherent narrative? Second, it is to create an interpersonal space within which one can be reflected in the otherís eyes; can be encouraged to attend to as many parts of oneís experience as possible, especially the forgotten, disowned, dismissed ones; and then attempt to create a poem that can hold them together despite forced polarities: the cry next to the laughter; the innocent next to the villain; the damaged next to the powerful; the image next to the word; and the hungry next to the food.
About the Author...

Dr. Katerina Spei, has a long career providing psychological services in different therapeutic settings. For more than ten years she has dedicated clinical efforts to providing treatment for Serious Mental Illness in underserved areas of NYC. She received her doctoral degree in Clinical Psychology from Ferkauf Graduate School of Yeshiva University in 2001; completed her internship and fellowship on the training ward and female admission ward of Bronx Psychiatric Center respectively; and worked as an inpatient ward psychologist on a long stay male and female trauma ward. Until present time, she has served as a member of the hospital Trauma Committee. In this capacity she co-facilitated two trauma conferences, provided peer-supervision and consultation to co-workers on treatment issues related to trauma, and developed trauma informed group interventions. In addition, she was trained and participated in research on Cognitive Remediation. From 2006 to 2009 she undertook the responsibility of managing and supervising the BPC ACT team, a mobile psychiatric team, aiming at providing services to individuals with serious mental illness in the community and assisting them with their recovery. During the last few years, she has designed groups and has provided individual psychotherapy by combining trauma therapy principles with other evidenced based treatments for psychosis in an outpatient clinic setting including a Trauma Informed Cognitive Remediation Program. She has a private practice in Westchester, Pleasantville NY, where she aims at helping individuals to resolve problems, go through personal crises, deal with past painful events, and overcome distressing symptoms. She has received training in EMDR and Exposure Therapy. She has presented and published on cognitive remediation, trauma therapy, dissociation, sexual offending behavior and mental illness, and male trauma. During her career, she has been involved in the training of psychology interns, psychiatric residents, and medical students by providing seminars and ongoing supervision.
Last Update: 10/4/2012